Scientific Assembly Boston
Scientific Assembly Boston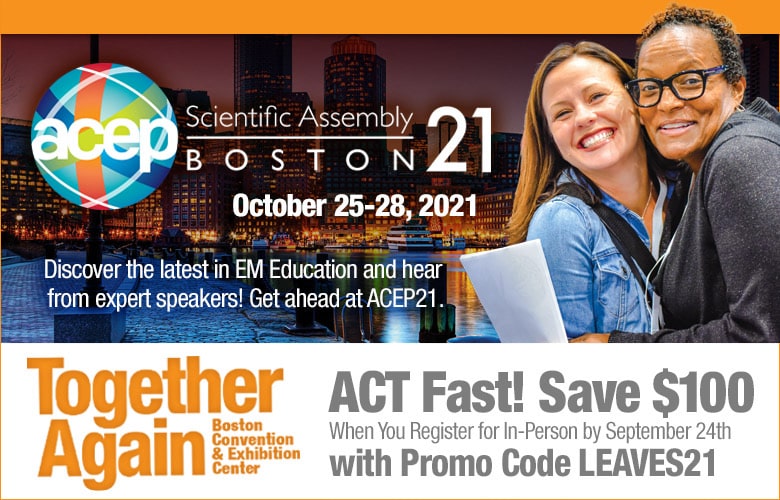 October 25, 2021 11:00 am - October 28, 2021 07:00 am
ACEP
Website: https://www.acep.org/sa
Address: Boston Convention & Exhibition Center, Boston, MAUS
ACEP21 will be one of the most exciting educational conferences yet! We are excited for everyone to come back together for education, social activities, and networking! This year offers live streaming of courses from 2 of the largest course rooms throughout the entire conference with overflow seating to accommodate all attendees. There will be 30 bonus courses offered, and an emcee to help attendees through the week with instructions and information on important conference education, social and networking events. So, whether you want to Mix and Mingle, join a storytelling evening, test your cooking skills during the cooking demo, compete with your peers during trivia and knowledge night, engage in cuteness overload with live streaming puppies, penguins, and kittens, or see the puppies live in Boston, ACEP21 has something for everyone! We can't wait to be back together at ACEP21!
Become a
member
Join NAMD Today!
Get Fantastic Benefits and Services!
You'll get a one-year membership with full benefits.
Join now
More Events
Mon., October 25, 2021, 11:00 AM
Sun., August 8, 2021, 1:00 AM
VIEW ALL EVENTS